It's easy to dismiss Google and social media if you don't consider yourself an on-line business. The problem with that line of thought, however, is that you're missing out on the digital word of mouth that can occur from your clients who ARE on-line. That's why so many brick and mortar businesses focus a portion of their marketing budget to digital advertising, even if they offer no on-line services. Normally, no one COMPLETELY dismisses social media, though. Most businesses have a Facebook page, and possibly an Instagram account. Those are relatively easy to set up and maintain.
Your most dedicated clientele will usually give you a good review on Facebook, or comment on an Instagram post very willingly. But these days, just having Facebook and Instagram comments aren't enough. With more and more people turning to the internet not only to interact with their favored brands, but using it to find NEW places to patronize, it's vitally important to make sure you've got a flag firmly planted in places like Google. THOSE reviews will be the ones driving new customers your way.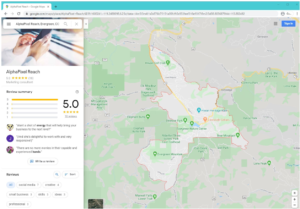 One of the easiest things for consumers to do is open Google Maps on their desktop PC or a smartphone and type "[SERVICE NEEDED] near here." This brings up a local map with potentially DOZENS of providers in the immediate area. When a potential client clicks on one of those providers, Google displays their business listing, and any associated reviews.
Google reviews, unlike comments on Social Media, are something you have little to no control of, but they can play a significant role in your on-line presence. Where Facebook will allow you to disable reviews on your business page, Google will not. Facebook users wanting to leave a review have to follow your page, so there's less likelihood that they'll be from someone who's just out there leaving random reviews. This isn't true for Google. Anyone and their mother can leave a Google review whether they've ever actually done business with you or not. 
Google reviews are more discoverable by people who are looking for a good or service, whereas social media reviews are more often seen by people who already know your company and/or product name and are looking for you specifically. That's why having positive Google reviews is important. They not only increase people's confidence in working with your company, but also improve your SEO placement. They build your credibility in the community and with potential clients, plus they also help people who've been past clients determine if they're still going to like the services you offer and if things are still as they have experienced in the past.
Google reviews are generally believed to be credible and objective. Most people know reviews on places like Yelp are filtered by the company, and people are beginning to understand that you may not see all the reviews. Unfortunately, people are more motivated to leave negative reviews than positive reviews. When we are unhappy, we want people to know we are unhappy and who caused it.  When we're happy, we generally just bask in the experience and don't think much about the business or product that brought that happiness about.
That's why we have just re-started the 5-star review campaign we usually reserve for Valentines Day. This week, we want to encourage everyone to post Google reviews for their favorite local businesses. It can significantly help small businesses (especially in our more rural communities) during these unusual times. If we all share the things that make us happy, EVERYONE wins. 
Help Others Out — Leave Them a 5 Star Review