Article written by Wild Iris Marketing team member Mindy Hanson.
Wild Iris Marketing grew out of the company known as AlphaPixel Reach.
AlphaPixel Reach founder Mindy Hanson settled on the original name when she started doing client work, however, it was intended to be a temporary name until the perfect brand was decided upon. Well, here we are about eight years later and the right name and time has finally come for the new brand. 
Welcome to Wild Iris Marketing. 
But why that name and why now?
Founder Mindy Hanson has always loved Iris. They are delicate but also incredibly tough. They are unique and look like no other flower. Even each individual flower is varied in their color, shape and size.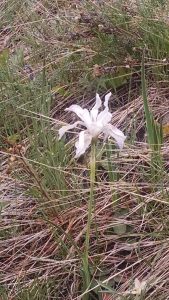 Iris are one of the most drought-tolerant wildflowers and they can thrive in any soil. They adapt to their environment. How often have you seen their blue and purple flowers blossoming along the side of the mountain highways where there is nothing but remnant snowstorm gravel? 
Many clients call us when their business is growing and thriving and they need to focus on the parts of the business they specialize and want to hand off marketing to someone who will keep their growth going. Some of our clients approach us when things get rocky and they know they can not manage their marketing successfully on their own. They want Wild Iris Marketing.
But Iris are not just pretty and persistent in our current world. The Greek Goddess Iris was believed to be a personified rainbow and linked the earth with the heavens. Iris was a messenger in the ancient world, long before modern marketing tools! We like to think our messaging is key to communication between clients and their current or potential clients.  
You may also notice we have removed the word "digital" from our name. More and more of our clients are asking us to help them with broader marketing. We still do all of the things we have done for years, Website Design and Maintenance,  SEO Optimization, Business Social Media and more. However, we also work closely with clients to make sure their other marketing efforts are consistent with their message and branding, including printed collateral and branded promotional items.
We have also helped multiple clients recently to design and launch an entirely new brand or rebrand to something new and refreshed. We can provide end-to-end branding and marketing services. We're going beyond Pixels AND Reach.
The team at Wild Iris Marketing is the same people with the same dedication and commitment you have come to know and trust with AlphaPixel Reach. Now we have a new name and logo that better fit what we do now and plan to continue doing in the future. 
Let Wild Iris Marketing help your business bloom! 
Wild Iris Marketing — Announcement